Daily low foaming detergent for hand washing of water resistant hard floors. The ultra gentle cleansing base contains a new generation of 100% plant-derived molecules wheat. These molecules dissolve all fats very effectively and effortlessly, without a trace.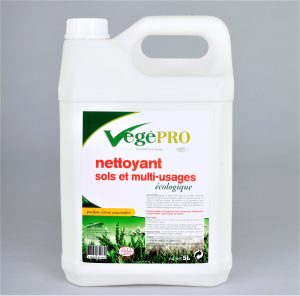 An environmental friendly formulation:
The floor cleaner and multipurpose consists of agents derived from wheat surfaces. It contains no phosphates, ammonia or petrochemical solvents, and has minimal impact on the environment.
Advantages:
Dissolves all fat very efficiently and effortlessly, without a trace.
Alimentary:
Complies with the Decree of September the 8th, 1999 on the cleaning materials that may come into contact with foodstuffs.
Fields of application:
Ideal for floors cleaning and other hard surfaces by communities, maintenance companies, …
How to use:
Surface Cleaning: For optimal efficiency, proceed according to the method of flat mop microfiber with headbands.
1% dilution or 100ml per 10 liters of water. No need to rinse.
Cleaning thick stains: Pour the product onto a wet wiping support (microfiber cloth), or directly on the surface to be cleaned, leave for a few minutes and wipe off. Optional flushing.