The fabric cleaner cleans and renovates fabrics, carpets and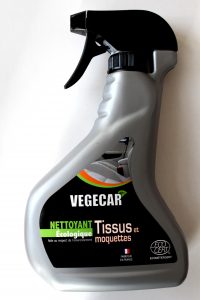 rugs. Enable fabric seats' clean and fresh.
An environmental friendly formulation:
The fabric cleaner is 100% of plant origin; it contains no phosphates, ammonia or petrochemical solvents, and has minimal impact on the environment. It contains no fragrance and is biodegradable.
Fields of application:
Ideal for regular maintenance of fabrics, seats, carpets and rugs.
How to use:Spray the product at about 30cm on the whole surface to be treated. Leave for a few minutes and wipe off with a clean cloth or microfiber. Do not dilute, ready to use product.
Recommandations: Make a test on a hidden part of the surface to be cleaned in order to observe the result. Keep out of reach of children. If swallowed seek medical advice immediately.