Multifonction: Penetrating oil, grease, waterproof, rust remover, tar remover, protective, non-sticky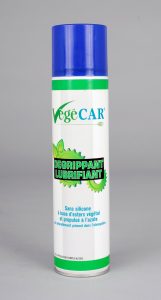 FEATURES
. Ester-based penetrating oil of vegetable origin,
. Powered with nitrogen gas, naturally present in the atmosphere,
. Easily biodegradable,
. It is composed of more than 80% renewable carbon
. Not composed by Volatile Organic Compound (VOC = 0)
. Not listed in Schedule 84 of solvents that may cause occupational diseases,
. It is guaranteed without hydrocarbon and silicone,
. Flammable propellant.
Fields of use:
The Penetrating oil can be used for:
Penetrating: thanks to its penetrating agents, allows Penetrating without distorting the threads, loosens blocked mechanisms (locks, bolts, nuts, rods, valves, pulleys hinges, valves …)
Lubricant: its chemical nature makes it a slightly greasy lubrication
Tar remover: this penetrating is additive with vegetable bases whose tar removing properties are recognized, allows tar's dissolution, asphalt mix … on the underbody, chassis truck, dump…
Waterproof: It creates a water-repellent protective film which prevents the penetration of water and moisture. It protects the ignition systems and provides engine start.
Rust Remover: its specific agents reduce rust and ensure a perfect penetration.
Anti -corrosion protective: It allows all times a good temporary protection irons, cast iron and steel against rust for several days.
Non-stick: the repeated use on the underbody, truck chassis, and well -sized (to prevent tar's adhesion) facilitates the gear's cleaning.
How to use:
Spray 20cm from the parts to be treated.
Wait a few seconds; repeat the process for heavily corroded parts.
Works in all positions.