This creamy leather cleanser acts as cleansing milk for the skin. It absorbs and cleans impurities and dirt.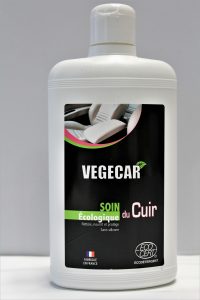 An environmental friendly formulation:
The milk leather cleanser is composed of agents derived from wheat and vegetable waxes surfaces. It contains no phosphates, ammonia or petrochemical solvents, and has minimal impact on the environment.
Advantages:
The milk cleanser thoroughly removes dirt, adds shine and protection to leathers. It does notcontain silicone.
Fields of application:
Ideal for cleaning car cleaning leather, furniture leather, but also shoes.
How to use:
Ready to use.
Spray a little cleaner directly onto the soiled surfaces. Wipe delicately by rubbing it with a cloth type microfiber. With a second cloth, polish and shine. You can apply directly with a cloth.