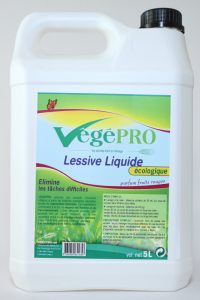 Specific liquid detergent for washing all types of fabrics that provides effective gentle wash even at lower temperatures.
An environmental friendly formulation:
The liquid detergent is composed of agents derived from corn and coconut surfaces. It contains no phosphates or phosphonates, or glycol ethers, phthalates and dyes, it has a minimal impact on the environment.
Advantages:
The concentrated liquid detergent combines efficiency at 30 ° C without pre-wash, softens the fabric and respect the skin by selecting perfumes minimizing risk awareness. All textiles, all temperatures.
Fields of application:
Ideal for laundry in laundries, hotels, restaurants, communities.
How to use:
Machine wash: a load of 4/5 kg of laundry, one dose, approximately 20 ml
For a half load divide the dose by 2.
Hand wash: dilute in 5 liters of water the doses indicated below divided by 2