VEGECAR is an environmentally-friendly alkaline liquid bodywork sh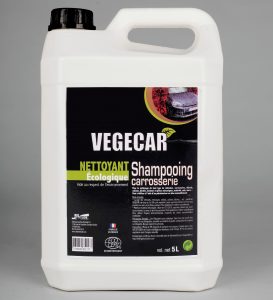 ampoo. Dedicated to cleaning of all types of hard surfaces compatible with water and alkali. It is the only product in which the cleaning agents are 100% of vegetable origin (wheat, sugar beet) and  is completely biodegradable in 28 days (OECD test 301F). By its performances, and the agricultural origin of its components, it's a true technological innovation.

An environmental friendly formulation:
It's composed of agents derived from wheat and beet surfaces. Made from 100% raw material of natural origin, it contains no phosphates, ammonia or petrochemical solvents, and has a minimal impact on the environment. Approved for food contact: Conforms to the order of 8 September 1999
Fields of application:
Ideal for washing PL, VL, construction machinery, agricultural machinery, motorcycles, etc. …. for different types of materials: carwash machines, mobile high pressure or high pressure car wash, spray, brush, to sponge, washing glove.
How to use: Can be used for car cleaning, trailers, sheets, floors, walls….
Car wash & devices : Use from 3 to 5% diluted in water. Let react 1-2 min without drying. . Rinse under pressure
High pressure cleaning: Spray the product diluted at 3-5% on the surface to clean. Let react 1-2 min without drying. Rinse under pressure.
Engines and mechanical devices: Use from 10 to 20% diluted in water. Clean manually or with high pressure equipment.